General services offered by the Guam APEX Accelerator include:
Advising and assisting clients in the preparation and proper submission of applications, certifications, registrations, bids, proposals, and other requirements to do business with Federal and local government entities.
Assisting with finding government procurement opportunities, including providing "bid matching".
Advising and assisting clients in finding, pursuing and securing subcontracting opportunities from Federal and local government prime contractors and subcontractors at any tier.
Advising and assisting clients concerning post-award functions, including government accounting systems and contract payments.
Counseling and training on Federal and local government contracting laws, policies, and procedures as well as subcontracting requirements at all levels.
Identifying marketing opportunities and techniques for clients consistent with the client's products and services.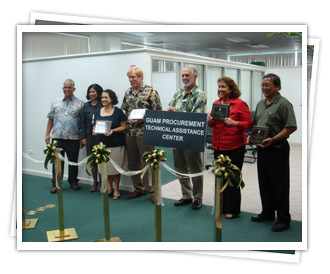 ---
Specific services offered by the Guam APEX Accelerator include:
DoD and SBA Mentor-Protégé Programs (MPP)
Federal government and DoD cybersecurity regulation compliance
Foreign Ownership, Control, and Influence (FOCI)
How to use Federal data sites – SAM.gov, Federal Procurement Data System (FPDS), USASpending.gov
Procurement Integrated Enterprise Environment (PIEE) and Wide Area Work Flow (WAWF)
SAM.gov
SBA Small Business Certifications – 8(a), HUBZone, WOSB, SDVOSB
Small Business Innovative Research (SBIR) / Small Business Technology Transfer (STTR) programs